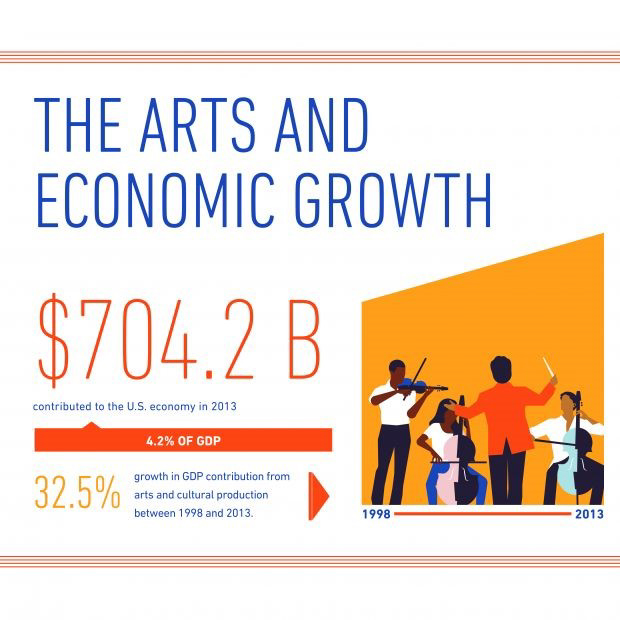 Today's creative economy gets a big boost from the arts, according to new data from the National Endowment for the Arts and the U.S. Bureau of Economic Analysis. The latest figures cover 1998 to 2013 and they spotlight fast-growing arts industries, export trends, employment figures, consumer data, and more. In 2013, arts and cultural production contributed $704.2 billion to the U.S. economy, a 32.5 percent in-crease since 1998. Another key finding is that consumer spending on the performing arts grew 10 percent annually over the 15-year period. The Arts and Cultural Production Satellite Account (ACPSA) is the first federal effort to provide in-depth analysis of the arts and cultural sector's contributions to the economy.
"The new data show that the production of performing arts services has grown at a faster clip than arts and cultural production in general, contributing $44.5 billion to the U.S. economy in 2013," said NEA Chairman Jane Chu. "Notably, the ACPSA reveals that Americans are choosing to spend more on performing arts events such as concerts, plays, and dance performances. This tells us that the arts remain a valuable and desirable commodity for U.S. consumers, and that the arts are a strong contributor to America's economic vitality."
For more information about this report visit https://www.arts.gov/news/2016/arts-and-cultural-production-contributed-7042-billion-us-economy-2013.